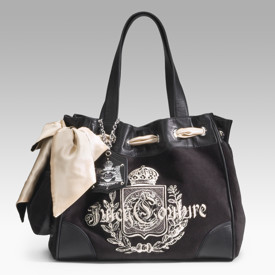 Every girl loves a little something new. But there seems to be a new craze going on within the high school scene.
Juicy Couture is taking over.
Juicy socks, necklaces, bracelets, charms, earrings, shirts, pants, sweatsuits, purses, key chains...
I could honestly go on for days.
Is this little obsession that people have with this ultra girly brand justified? Or is it just a fad?
Here are the facts:
1. Dressing in head to toe Juicy Couture is hugely obvious, obnoxious, and most of all annoying. Mix and match ! Give it an edge ! The color pink will thank you later.
2. Juicy's accessories are flawless. The oversized charms, understated necklaces, and great purses all speak for themselves. The sunglasses also make my heart happy, so I'd check those out too if you're looking for a good piece. The charms can give any outfit a girly touch and the purses are big enough to hold all of your stuff (If you read my last post, you'd know how much that means to a person like myself...). The best part is, they last a while, and even longer if you take care of them.
3. Please don't wear a sweatsuit. Not even to the gym. I don't care how much you paid for it. They really are not cute.
4. Though the fragrances are a bit strong, all of them have their separate appeals. What girl doesn't like to smell good?
So, I'd say the obsession is semi-justified. Every girl likes the bows and whistles once in a while. And, Juicy Couture is a brand with a reasonable price (next to some other big labels, like say, Chanel or Dior). Though not necessarily the classiest, the brand is slowly integrating itself into young culture.
I'd say I'm okay with that.
Unless the sweatsuit comes back again. Then my opinion might change.

-Jill